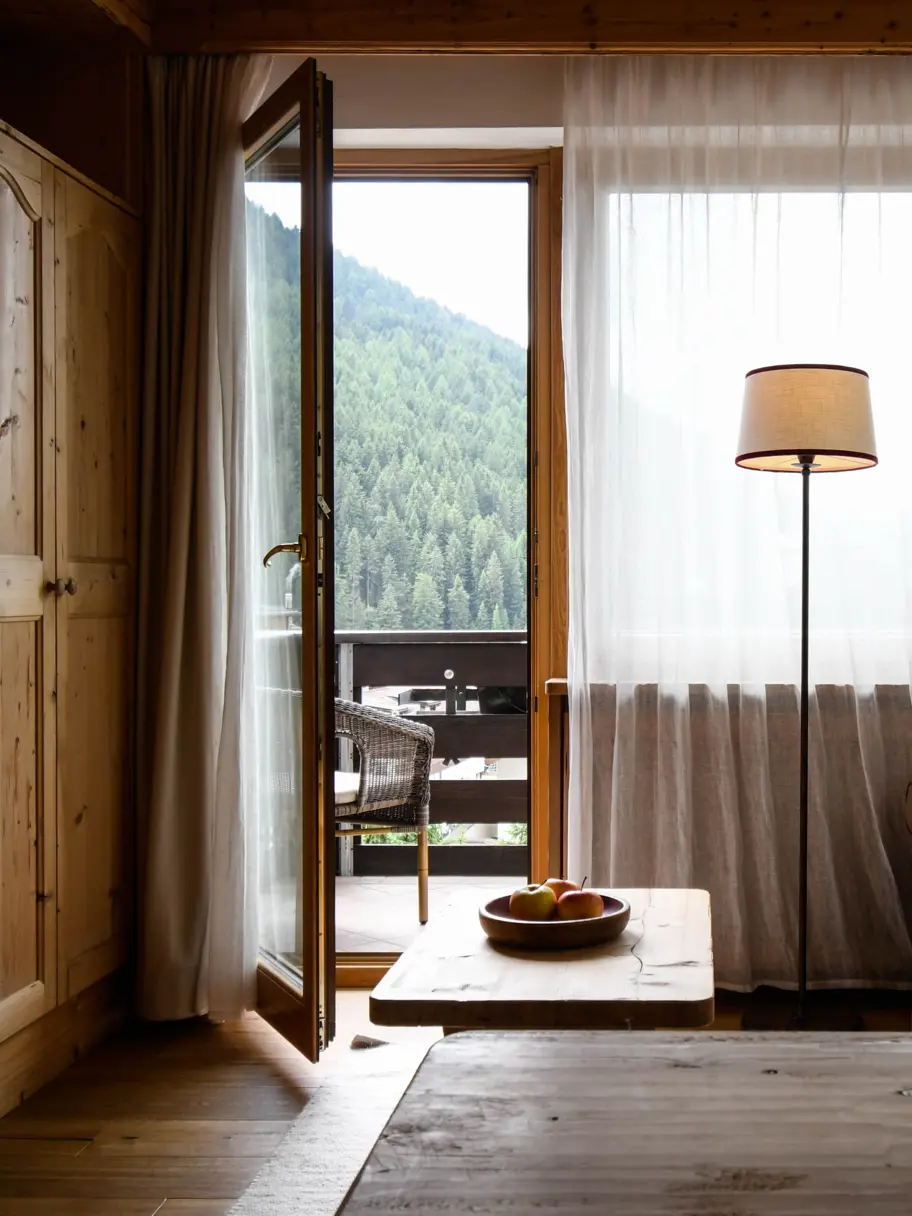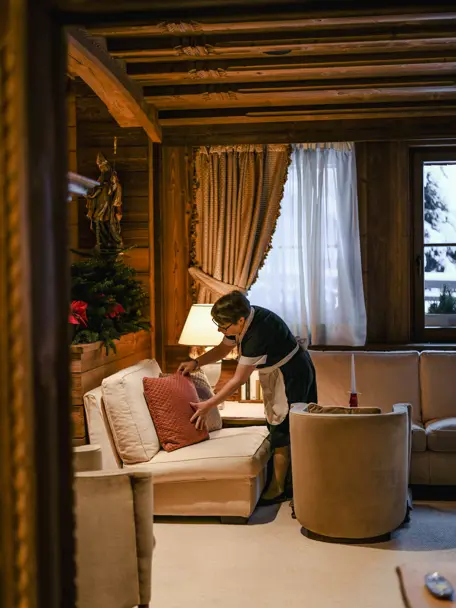 Rooms
A stylish, alpine atmosphere
Rest and revive yourself in our fully equipped rooms, immersed in an alpine atmosphere. Local wood, Ladin character and the warmth of a Tyrolese stove blend seamlessly with the landscape, with enchanting mountains reflected in your windows.
Angela - The Observer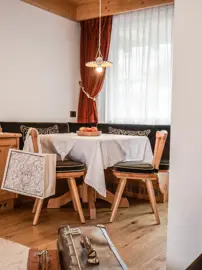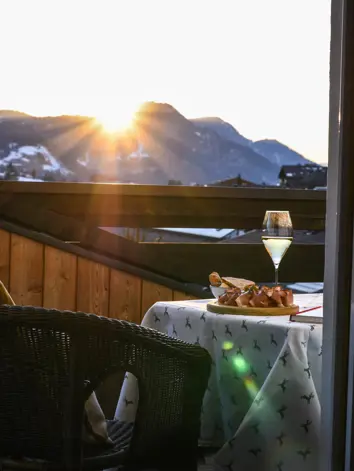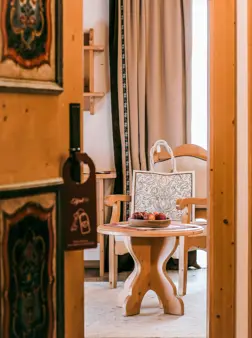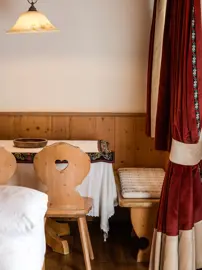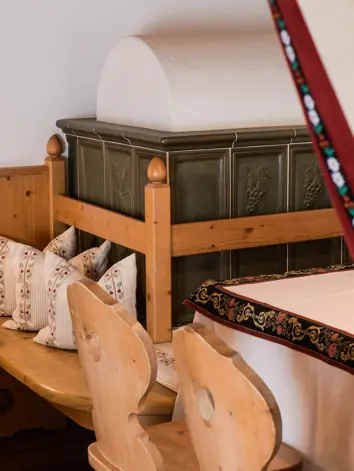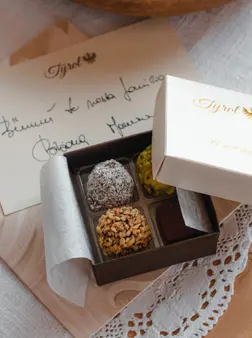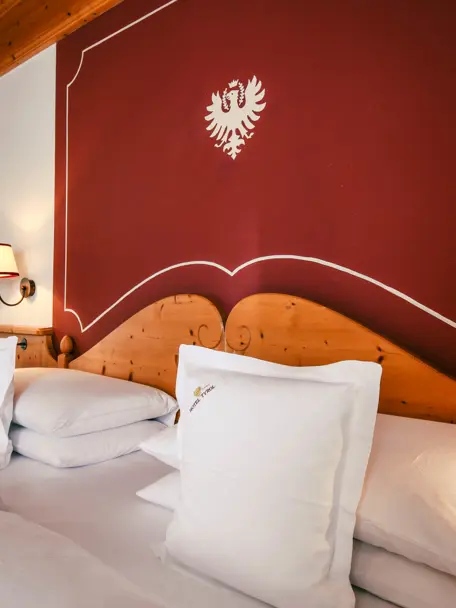 Rooms and suites
with a spectacular view
The 50 rooms in our Hotel were custom designed to ensure the best regenerative break and are inspired by the architectural tradition in Selva Val Gardena. The design of the interiors highlights the typical nature through the use of local wood and the panoramic views of the Dolomites.
The rooms are framed by large windows and include balconies or direct access to the garden, allowing guests to enjoy the mountain landscape of the Sassolungo, Sella and Puez-Odle groups in all its glory.
Classic
20m2 | for 2 guests
Romantic rooms recreating a simple, traditional style, furnished with light timber and alpine decor. The rooms include a desk, an ensuite with bath or shower and a balcony, and some offer a panoramic view over the valley.
Superior
29m2 | for 2 guests
Romantic rooms recreating a simple, traditional style, furnished with light timber and alpine decor. The rooms include a balcony and an ensuite with bath or shower, and some offer a view over the valley or the Sella mountain landscape.
Deluxe
30m2 | for 2-4 guests
Romantic, spacious rooms, furnished with light timber and alpine decor to guarantee the ultimate revitalising getaway. The rooms include a small seating area, an ensuite with a bath and shower, large windows and balconies with a panoramic view of the surrounding landscape, either overlooking the valley or the Stevia massif.
Deluxe with a view
35m2 | for 2-4 guests
The position of the Deluxe rooms maximises natural light and ensures visitors can enjoy a beautiful view of the Sassolungo and its valley. The design, furnished with light timber and cosy alpine decor, includes an ensuite with bath and shower, a seating area and a balcony with a panoramic view, providing guests with a relaxing and traditional atmosphere.
Junior Suite
40m2 | for 2-4 guests
The Junior Suites are intimate spaces that offer a taste of Ladin tradition in a welcoming atmosphere. The rooms are furnished with fine timber, warm hues and a seating area, and some feature a charming Tyrolese stove. All rooms include a terrace, some with a view of Mount Stevia, and two bathrooms: one with a bath, the other with a shower.
Service and room information
RESERVATIONS AND TOURIST FEE

The reservation are confirmed only with a payment of a deposit . In case of short-term cancellations or early departures we can calculated a fee (see "Cancellation Policy").
We are obliged to collect the tourist fee of Euro 2.50 per person per night, applied to all guests over the age of 14. The tax is not included in the price of your stay.
Attention from 01/01/2024 there will be an increase in the tourist tax, the amount is 3.40 Euro.

DOGS

The pets are accepted in our hotel but must be dogs of small/medium size (under 25 kg) and we must be informed when you book the room. Your pets can stay only in your room, please don´t bring the dog in restaurant, bar and wellness area.

TRAVEL INSURANCE

With our check-in insurance you will be secured economically. According to EEC regulations, delayed departure, cancellation or termination of your stay may result in penalties being incurred. To avoid such expenses, we suggest you take out travel cancellation insurance. In such cases, Europische would take the above-mentioned expenses.
We therefore recommend: Europäische Reiseversicherung AG.