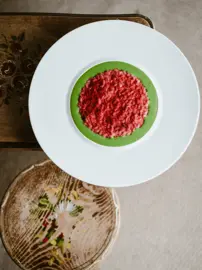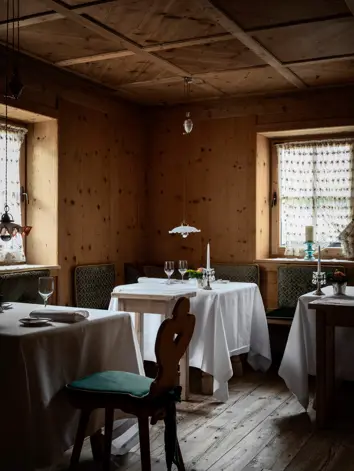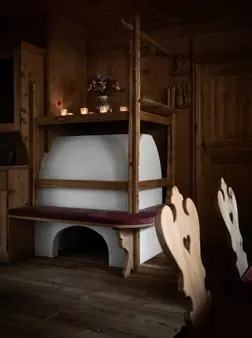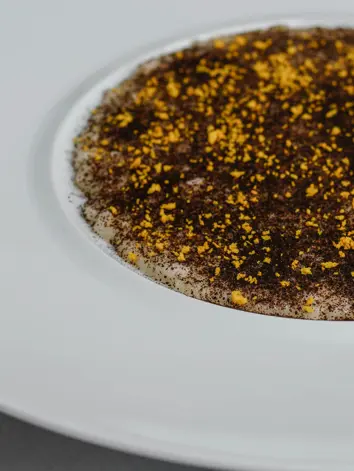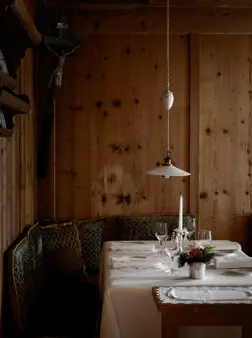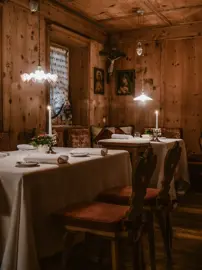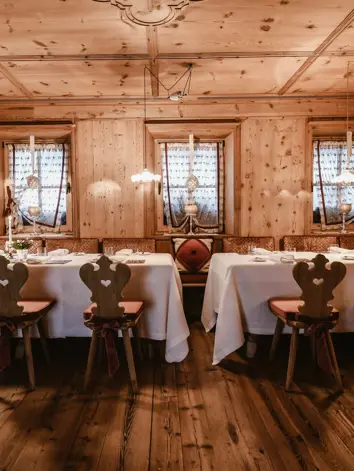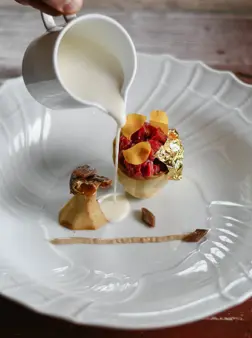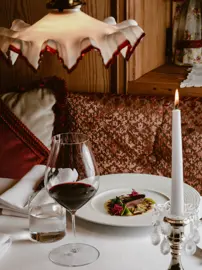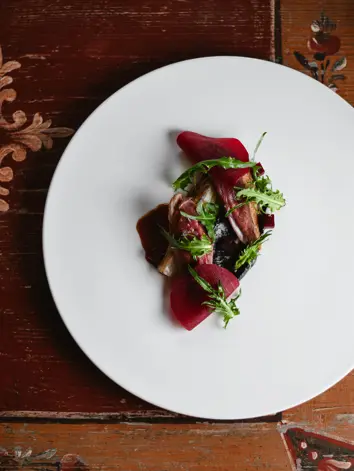 Nature and memory
A patterned green door opens to reveal low lighting, period lampshades and velvet upholstery. Ancient wooden panelling, a dresser, and family heirlooms. A cosy environment with the intimacy of a traditional Ladin stube. The few tables are laden with cuisine celebrating the artistry and spontaneity of nature. Authentic flavours cooked at a slow pace, striving for excellence: myriad alpine and Mediterranean dishes with plenty of surprises. This is Suinsom, meaning 'on the summit' in the local Ladin dialect. An original sensory expedition, an excursion through flavours to the summit of taste and the pinnacle of great cuisine, crowned by a Michelin star.

Reservations
Hours: 19.00 – 21.00
Closed on Mondays
Always open during high season
Reservations
[email protected]
+39 0471 774100

Reserve a table
The chef – Alessandro Martellini
His is a career full of extraordinary and significant experiences, starting with the large kitchen at the Hotel Pellicano and the Grand Hotel Villa Feltrinelli, and expanded through his collaboration with great Michelin-starred chefs such as Antonio Guida (2 **), Stefano Baiocco (2 **), and Enrico Crippa (3 ***). The continuous desired to perfect and enrich his creative talent led him to the restaurant at Hotel Tyrol in Selva di Val Gardena where he interprets his own food concept by revisiting Ladin traditions and dishes. Passionate about nature, a form of spontaneous art par excellence, Chef Alessandro seeks to transform it daily into flavorful dishes with a unique combination of colours, fragrances, and flavours.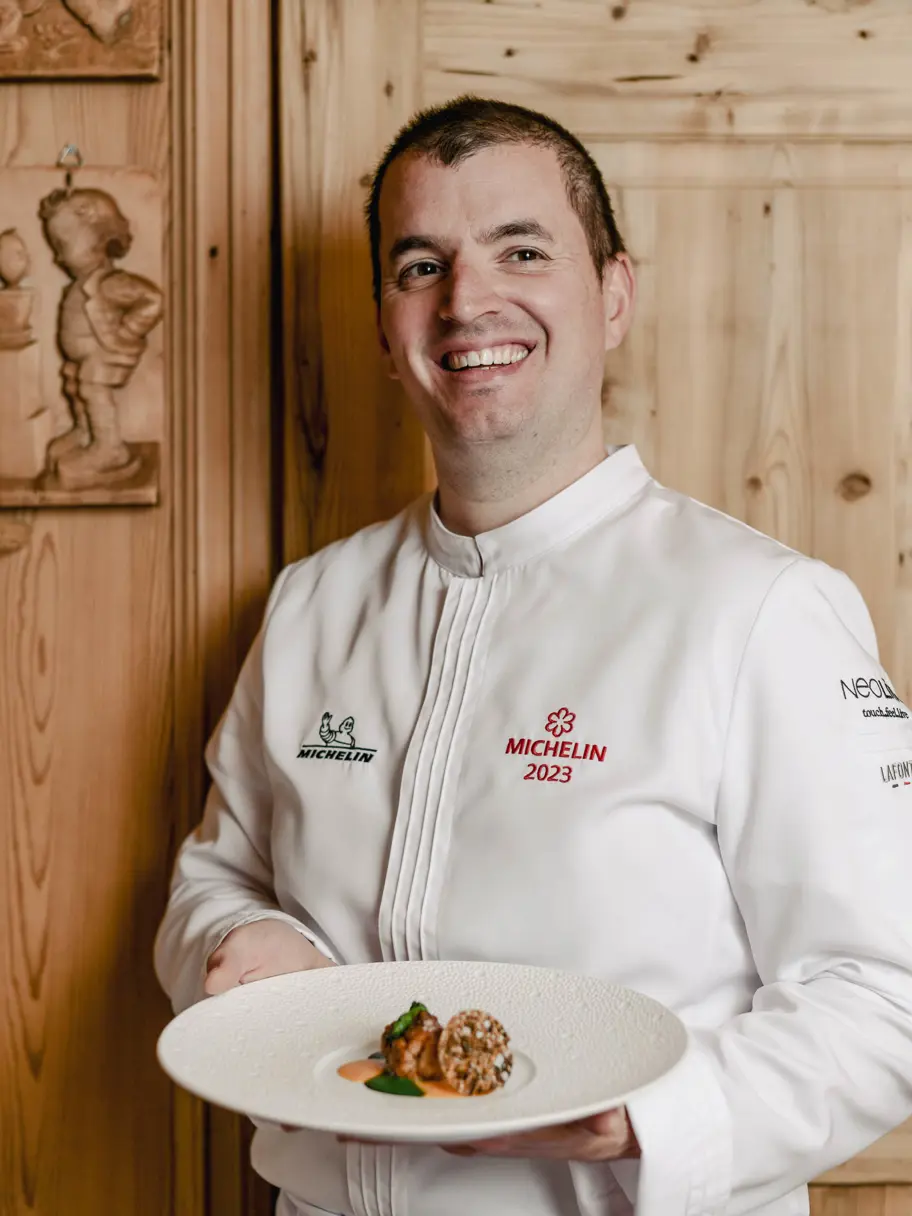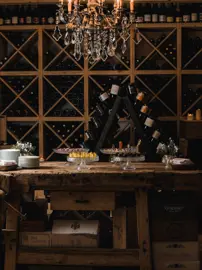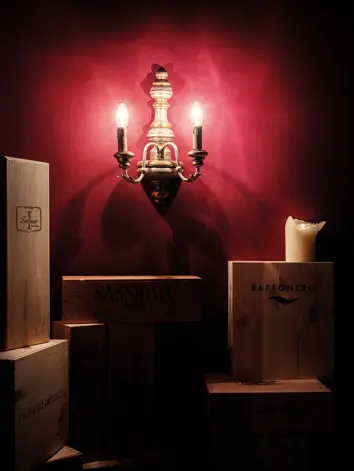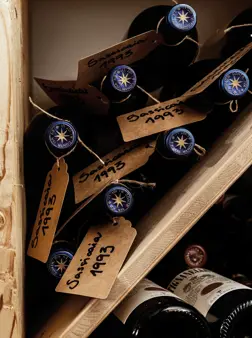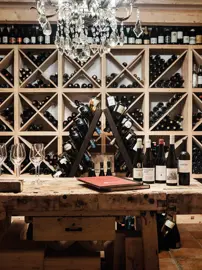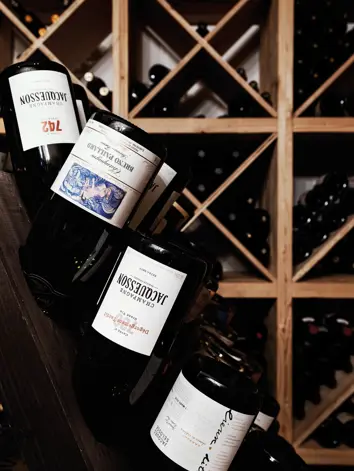 TyVIN – The wine cellar at Tyrol
TyVin is the Hotel Tyrol's wine cellar. A fascinating selection of wines that epitomises the hotel's philosophy, combining top labels with the region's finest creations.
We currently have around 800 different wines, with a particular focus on small-scale South Tyrolese labels, sourced directly from our favourite producers, and unusual and little-known varieties from Italy and the rest of the world.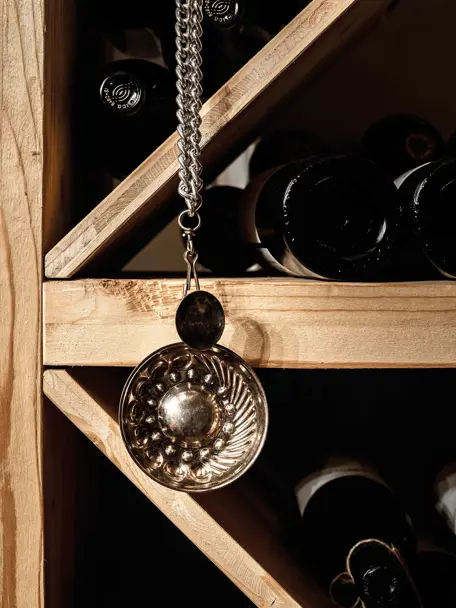 Sommelier – Marika Rossi
Fascinated since childhood by nature and its deep, exciting, and often curious character, Marika Rossi has taken this passion to its highest expression, encapsulating it in the glasses of wine she offers our guests.
A passion that accompanies her in her search for producers who follow the same philosophy as her, discovering organic and biodynamic labels, hidden vines, and indigenous varieties, alongside the mono varietals and the blends that have made history. A collection of different emotions and experiences in each glass, to delight the tastes of every palate, from the most demanding to the most refined.